I have been archiving all of my purchased media for quite some time now, I like the flexibility of a digital copy, but also flexibility to view it how and where I choose (i.e. Plex). That usually means a lot of disc ripping, and I have set up a decent system and workflow to do it.
Most of my movies come with a digital copy, usually on iTunes. This is handy and useful, since I can stream to most of my devices that way. Movies on iTunes sometimes have really good deals, and it's tempting to grab something that way. And once in a while, my physical media is damaged – sometimes incredibly slightly – and I am just unable to rip it.
Files contained in Apple's digital library aren't perfect though, since if I want to watch a movie at someone else's place, it either means bringing my precious physical media (if I have it) or bringing a device to their place to watch it! I can't make a more highly compressed and smaller versions for those odd times I want lots of movie in little space. It's the inconvenience of DRM.
After a bunch of Google searches TuneFab M4V converter caught my attention. They claim to be able to remove the DRM from my iTunes library and give me a high quality version I can use in more ways, including the above. I thought I'd give it a try. They offered either a free license (for high-volume bloggers) or a 30% off coupon for a review. I'd probably review it anyway, so I'll try for the coupon!
They offer the product on two plaftorms, Mac and Windows – separately licensed. The first thing I tried was to download and install a version on my Mac. When I ran it it came up with a message stating that High Sierra was not supported. Since Mac OS has well moved on to Mojave as of this writing, I wonder if there's a future in the Mac version of the app? If you only have a Mac, be careful before purchasing this. Apparently they're looking into it, but for now… I hope you have Windows.
I downloaded and installed the Windows version. The first thing I discovered when launching it was a big white screen like this: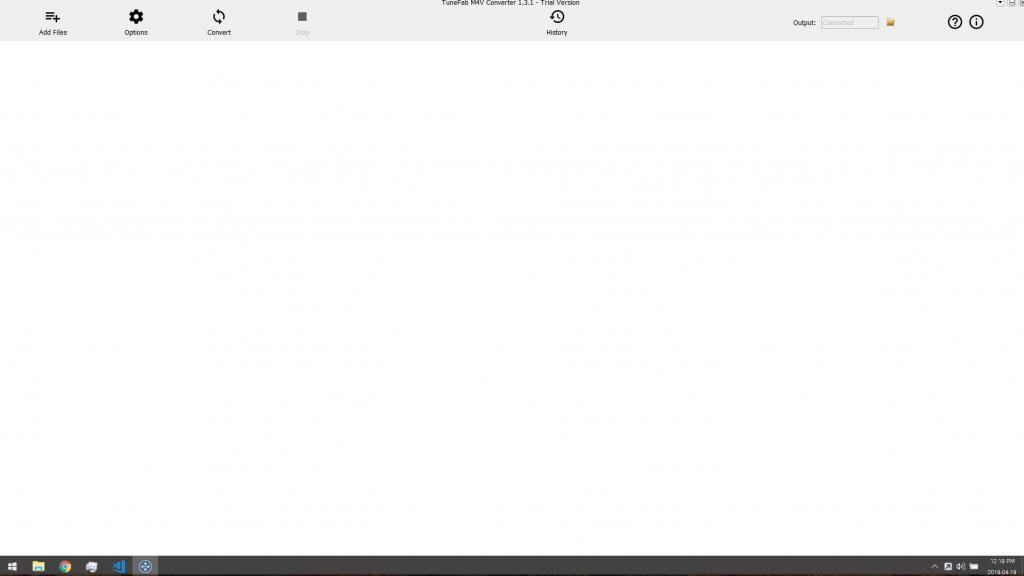 You can't see from the screenshot but the window is slightly larger than the available screen space, was not resizable and has its own non-standard window controls (close, minimize etc). These window controls are glitchy and vanished after moving the window around a bit… the only way to exit the app was to Alt+F4 or right-click on the taskbar icon.
Their intention was to look cool and clean but honestly it causes some major issues. (I have 3 monitors, so likely that was the problem. I think they could fix it quickly by not centering the window across all monitors but only the active monitor). TuneFab is not alone in falling into that trap, most Windows apps these days seem to want to blaze their own trail and make things look unique.
The options screen is very sparse as well – though it does have standard window decorations yay! It's not resizeable either.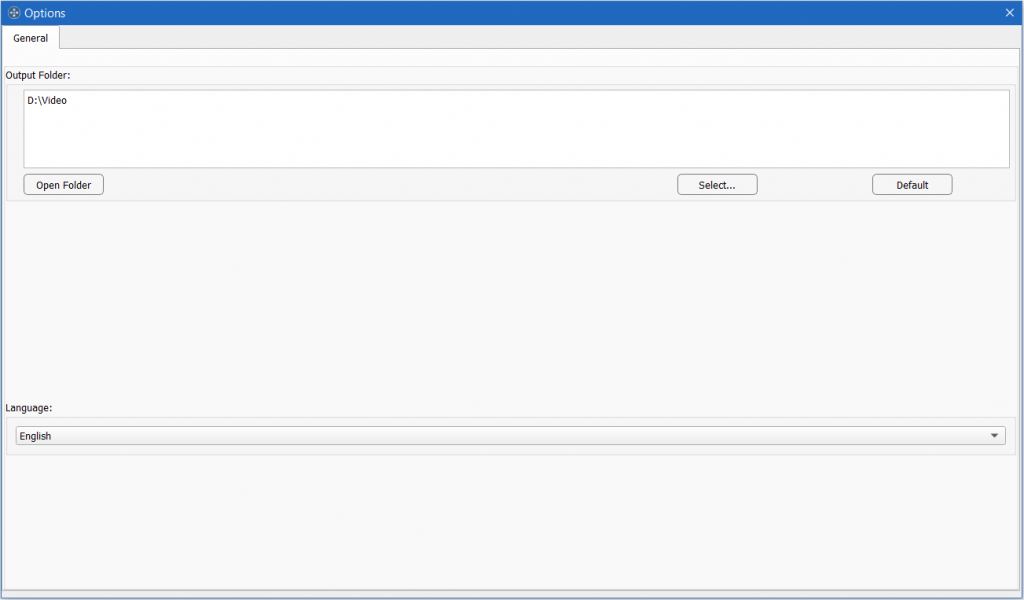 Wait! Don't give up!
But I won't be looking at this app all that often. I have a number of extremely valuable apps that are sadly pretty ugly. So I'll let the UI issues slide for now. The TuneFab team is welcome to contact me to test some fixes for this. The more important question is… does it work?
I click the very apparent "Add Files" button. Ah, tells me I need to download a file through iTunes first before encoding. Fair enough, it can't work with what it doesn't have. I wonder if it would be possible through the iTunes scripting interface to get a list of movies in the library and trigger a download? Still, another compromise I can understand and am willing to make.
So I downloaded a movie and clicked on "Add Files" again. It tells me I need to have downloaded a movie. But I just did? Could they add a "Refresh list" button? Eh whatever. I restart the app and there it is, it shows up, along with other iTunes playlists listed in the sidebar. At the bottom have appeared three buttons labeled "Add", "Add All" and "Cancel"…
And… just as I was noticing this, my machine threw a BSOD. Yikes. Windows kinda makes it hard to cast the blame. Is it a video driver? Is it iTunes? Is it this app? All three together? If it was Mac, it would almost certainly be the app, but I can't exactly find out.
But BSODs happen. We're all friends and not looking to point fingers here, but try out an app. I reboot and relaunch, select the movie and hit "Add". Nice, it comes up with video and codec information.

Off to the right (not shown) is a gear that gives you audio and subtitle information. I had 4 tracks (AAC and AC3 in English and French) and all of the subtitles available.
Once I did all of that, I clicked "Convert". Since this is the trial version I only get the first 5 minutes, so let's see. It's very quick on this machine (considerably faster than real time). I'd guess it took about 20 seconds to run through 5 minutes of movie… and boom the movie appears in the output folder! Quality looks great and includes multiple audio tracks.
I was able to take that file and run it through Handbrake for another resolution so yup the DRM is definitely gone!
The only option given in the Windows media player is to open a separate subtitle file (e.g. srt). I ran CCExtractorGUI and the subtitles are definitely there. I don't use subtitles, but I know some of you really need them.
Value
Listed price is $49 USD, with a (temporary?) $5 discount, so $44 USD. Is it worth this cost?
The polish on the app UI honestly isn't great. I expect more for an app this cost. Maybe this is only an issue with the Windows version? It appears they seem to be using Qt, and cross-platform toolkits tend to have these kind of issues. I couldn't test the Mac one so who knows?
But value for its functionality? Let's figure that out.
Well, if you figure a flexible backup of your existing iTunes movies is worth $11 each, it would pay for itself in 4 movies. Or to look at it another way, if you can save $11 per movie by buying on iTunes instead of on disc, you'd break even in 4 movies.
Or, if you rip your movies, then maybe you can calculate the time it takes and average it out that way. For me it takes almost 3 hours to rip and encode a Blu-Ray. I don't mind that much but this is much easier and faster – with the consideration that you still have to take the time to download a HD movie in advance.
So, it depends on your use and value of your time. Personally, if it was $29 I wouldn't even bother to calculate the time, it would be worth it. Add another 10-20 bucks and it makes me stop and figure out things like this.
Wait. If I get the 30% off coupon… (quick mental math). DUDE.
Bottom line:
Once I got it installed and running, it was really impressive. Very fast with excellent results. The UI is very buggy but the engine works great. If you want a DRM-free copy of your iTunes movies, this may be the way to get them.